How does packaging and transport work with Moviiu? Transportation and packaging are crucial steps in the shipping process for art objects and artworks. Behind every masterpiece lies a meticulously planned logistics system to ensure its safe delivery or relocation. At Moviiu, we specialize in the pickup, packaging, and safe delivery of art objects and artworks. Join us as we take you behind the scenes of our service in 10 steps!
1/ Online quote generation
First and foremost, it's important to note that Moviiu offers a unique online quoting solution in the market. Everything is instantaneous and can be done directly on our website. It's a straightforward system where you simply provide all the necessary information about the object or artwork you want to ship (size, weight, specific requirements, etc.).
Based on this information and the pickup/destination addresses, we can provide you with a detailed quote for any of your needs (pickup, packaging, transportation, installation). If you need assistance, our support team is always on hand to answer your questions!
2/ Custom packaging design
Transporting artwork requires a great deal of attention to packaging.
Based on the information provided during the quote process, our design teams create and manufacture custom packaging for the item being transported. Taking into consideration its weight, size, and specific characteristics, we offer both internal packaging (padding, spacers, etc.) and external packaging (triple-layered cardboard) to ensure its safety throughout the journey.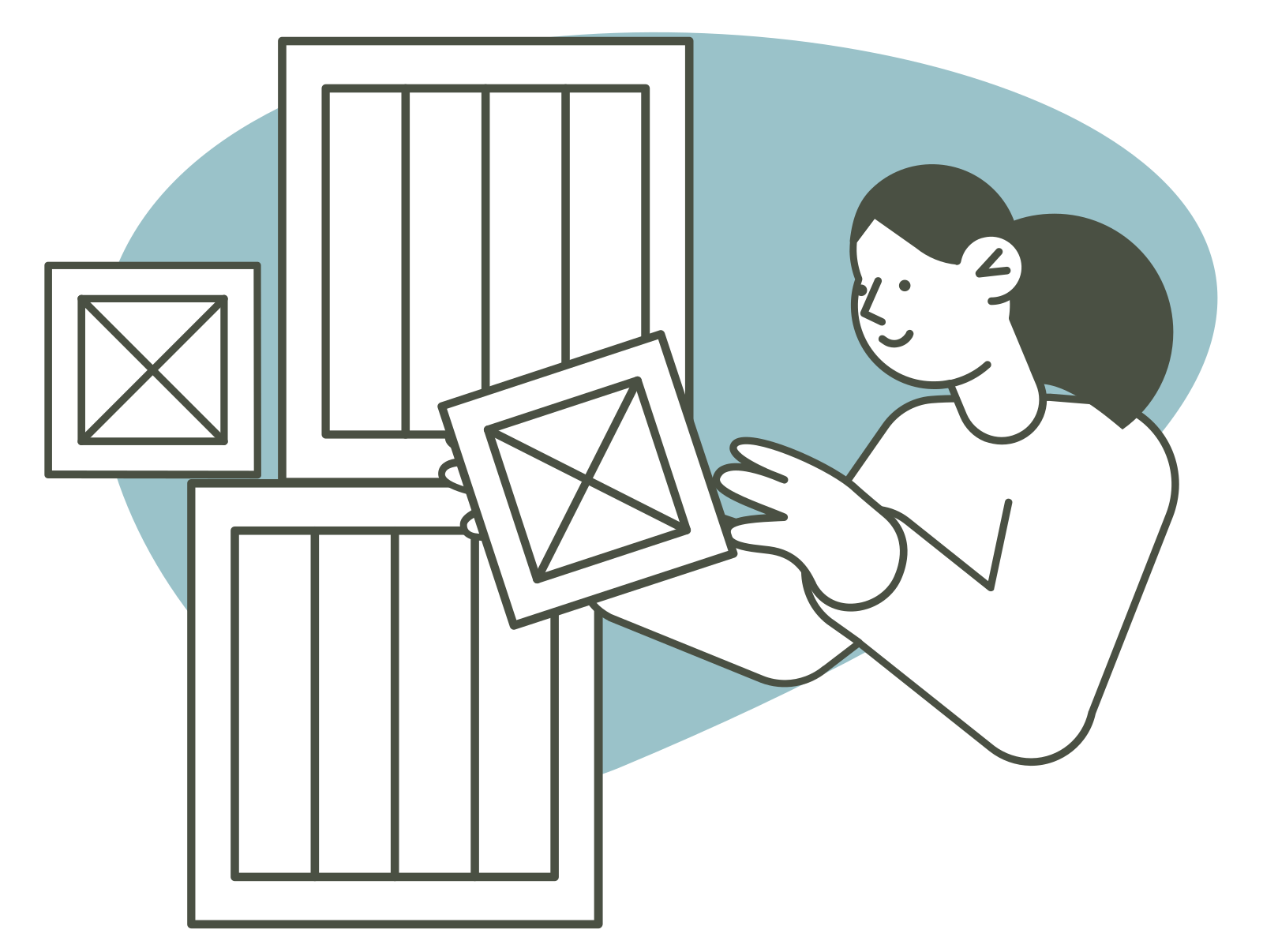 3/ Pickup from the shipper
If you wish to schedule a pickup, Moviiu can arrange to pack and collect your artwork (optional service).
Whether you're an art gallery, auction house, artist, professional collector, or an individual, Moviiu dispatches a team of experts directly to your location. We come equipped with the know-how and necessary equipment to guarantee the safety of your valuable items.

4/ Artwork packaging
The core of Moviiu's value proposition is the concept of participative logistics.
Here's how it works: if you choose not to use our pickup service, we will send you the custom packaging directly. Everything is designed to make it as easy as possible for you to pack your item yourself. You'll receive an assembly guide and a video tutorial to assist you. Once again, our support team is available to assist you if needed.
The result is that you retain control over the protection of your artworks and save on shipping costs!
5/ Let transport begins!
Transportation is crucial when it comes to art. Whether by road or air, Moviiu ensures fully secure door-to-door transport.
Leveraging the experience of our group, a leader in the art transportation market, we take all necessary measures to ensure your items arrive safely and without any issues!

6/ Customs formalities handling
When a valuable item crosses from one territory to another, certain administrative formalities must be considered. At Moviiu, our teams handle customs formalities without hassle for you or your client.

7/ Coverage for risks and damages
Another key aspect to consider for shipping artworks is their protection in case of damage.
At Moviiu, we offer (optional) ad valorem insurance to provide you with extra peace of mind. In the event of damage or a documented loss of value during transportation, we cover the costs of restoration or compensation for the loss in value.
8/ Unpacking and artwork installation
Similar to our pickup service, we offer (optional) artwork installation once it arrives at its destination. Our team unpacks and meticulously inspects the transported item(s) to ensure they are in perfect condition.
Note: This is an optional service. Feel free to inquire with our team for more information.
9/ Proof of transportation
Once the transportation mission is completed, Moviiu provides you with an official document confirming that the artwork has left its original territory and is being transported to its final destination. This document is essential for tracking and administrative purposes.

10/ Tracking via online dashboard
Finally, Moviiu allows you to keep an eye on all your shipments through a dedicated application. With it, you can track your shipments anytime, anywhere, provide instructions for pickups and deliveries, and manage your documents (quotes, delivery notes, invoices).
In summary, when you choose Moviiu, every aspect of transporting and packaging artworks is meticulously orchestrated. From pickup to delivery, custom packaging to handling administrative formalities, we are committed to supporting you to the best of our ability while ensuring the safety and integrity of your valuable items.
Reliability, responsiveness, and competitive pricing – that's the Moviiu service!